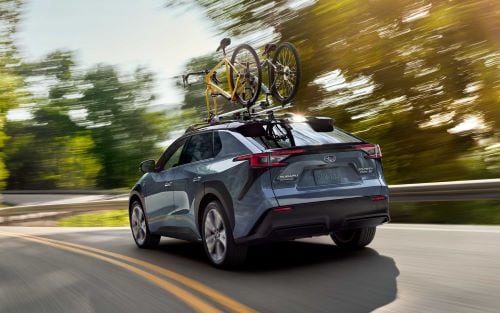 If you are looking for an efficient SUV to drive around Greenwich with, then the new 2023 Subaru Solterra will certainly suit your needs. The new Solterra model is a compact crossover SUV equipped with an all-electric powertrain. The new 2023 Subaru Solterra is coming to Subaru Stamford soon, and we are glad to have the model for our customers around Westport.
Performance Features
The powertrain of the 2023 Subaru Solterra utilizes two electric motors and an all-wheel drive drivetrain for your trek around White Plains. The electric powertrain of the 2023 Solterra produces 215 horsepower and 248 pound-feet of torque. Four driving modes are accessible in the Subaru Solterra, allowing Port Chester drivers to actively and instantaneously adjust their SUVs' performance based on the terrain they are traveling on. With 8.3-inches of ground clearance, the Solterra comes designed to tackle rugged terrain with ease.
Interior and Cargo
The 2023 Subaru Solterra has a spacious cabin that provides seating for up to five people for an adventure in Norwalk. A digital gauge cluster is standard for the 2023 Solterra, allowing drivers to easily see information about their vehicles while they are driving.
Entertainment Technologies
The 2023 Subaru Solterra keeps its occupants entertained with several standard technologies. A large 12.3-inch touchscreen display is standard for the new Subaru Solterra, providing a clear view of the model's infotainment system. Apple CarPlay and Android Auto are also both standard for the 2023 Solterra.
Safety Technologies
Subaru has included a variety of driver-assist and driver alert technologies with the 2023 Subaru Solterra. Forward-collision warning and lane-departure warning are among the driver alert technologies that are standard for the new Solterra. Lane-keeping assist and the automated emergency braking are standard driver-assist technologies for the 2023 Solterra. The "Grip Control" feature on the new Subaru Solterra provides drivers with a low-speed cruise control function that works excellently on uneven terrain.
Explore everything the Subaru Solterra offers at Subaru Stamford. Learn how you can reserve your own and discover how you can benefit from the thrilling new Subaru Solterra.