The 2022 Subaru Love Promise Community Commitment Award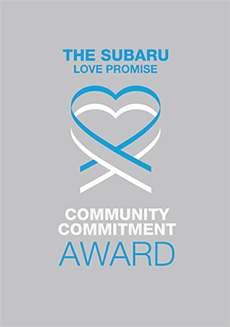 We've been nationally recognized for our dedication to our community and the Subaru Love Promise.
We're honored to receive the 2022 Subaru Love Promise Community Commitment Award. This award nationally recognizes Subaru retailers who are making the world a better place while demonstrating an outstanding commitment to supporting passions and causes in local communities. These efforts are focused in important areas such as the environment, community, health, education, and pets.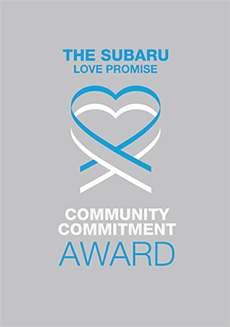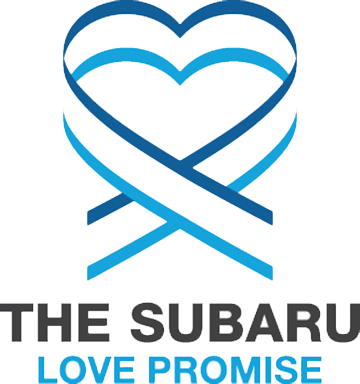 What is the Subaru Love Promise?
Subaru and our retailers believe in making the world a better place and the Subaru Love Promise is our vision of respecting all people. This is our commitment to show love and respect to our customers and to work to make a positive impact in the world.
How is Subaru Stamford dedicated locally to the Love Promise?
Our Love Promise can be seen in various partnerships with local charities and non-profits. We're grateful for the opportunity, not only to be a part of our community, but to serve it as well.
ASPCA, StaRelief & Pet Assistance
Stamford Public Education Foundation
Food Bank of Lower Fairfield
Make a Wish Foundation of Connecticut
Love Promise Stories from Subaru Stamford
Subaru and Subaru Stamford believe in making a positive impact on the communities in which we live and work. We uphold that belief through our Love Promise Community Commitment. Every month, we select inspiring stories from customers and partners from around our area who strive to support our collective commitment and feature them here
Subaru Stamford Adopts Newfield Elementary school - Jon D
Dear Subaru Stamford, Thank you for your overwhelming generosity this past back-to-school season. Your commitment to equity in education is helping to close the achievement gap. Too many students arrive at school each day without the basic needs to learn, and it's their teachers who fill that void. Together with Subaru of America, Inc. and Subaru retailers nationwide, 100% of the donations to AdoptAClassroom.org went to support more than 133,000 K-12 students in high-needs schools across the country. Our team has already begun planning for Subaru Loves Learning 2022. We are committed to working with you to make the up coming year even more impactful for students in need across the country, and looking forward to sharing all that's in store. On behalf of all of us at AdoptAClassroom.org, thank you again for your support. Ann Pifer, Executive Director, AdoptAClassroom.org
---
Subaru Stamford continues its legacy - Rob L
On December 6, 2021 Subaru Stamford came through again with supplying blankets in addition to providing pillows and socks this year. These supplies help to keep our people warm while working through a difficulties of homelessness. The supplies were used at the men's shelter, outreach and given out to those who have recently obtained housing. Subaru Stamford is part of a community that is looking out for this very venerable population. Pacific House is fortunate to have an ongoing partnership with Subaru Stamford.
---
Subaru Stamford Loves Pets x Lucky Dog Refuge - Kirstin M
This is the second year that Subaru Stamford chose Lucky Dog Refuge for their Subaru Love Pets Campaign, and we are grateful and proud to be selected for this partnership. We were fortunate to host three adoption events at Subaru Stamford's showroom to great success. General Manager Jonathan DiMeglio and his outstanding team were very welcoming and helpful – and spoiled our dogs and our adopters with toys, harnesses, travel bowls, bandanas, and lots of love. Their social media team was terrific at promoting the events and the rescue. Subaru Stamford now feels like a home away from home for the Lucky Dog Refuge team. **** Thirteen Lucky Dogs participated on site and a total of 34 Lucky Dogs went to their forever homes this month, largely thanks to the support, cross-promotion, encouragement, and efforts of the Subaru Stamford team. Of the 34 adopted, 21 were underdogs, with ailments including old age, hit by cars, gunshot wounds, heartworm and/or other parasites, parvo survivors, major orthopedics such as broken legs and hips, and painful skin conditions. Once homeless with dire prospects, they are all now healthy and happy with loving families in their forever homes. **** So many Happy Tails this month, thanks to the team at Subaru Stamford and Subaru Loves Pets! We are the lucky ones.
---
Subaru Stamford - A True Community Leader - Sam G
Where would we be without community partners like Subaru Stamford? Thankfully, Boys & Girls Club of Stamford does not have to answer that question. For the second year, amid a global pandemic, Subaru Stamford partnered with our organization to support our 1,600 youth members; 95% come from diverse backgrounds, 93% are on free or reduced lunch, and nearly half come from single parent households. COVID-19 continues to create a disproportionate challenge that impacts our youth and their future. Thankfully, with the support of Subaru Stamford, we continue doing whatever it takes to make sure all youth, especially those who need us most, have the tools they need to succeed.
---
Pacific House Benefits from Subaru Charity - Jennifer B
During 2020, Subaru of Stamford was bestowed the 2020 Subaru Love Promise Community Commitment Award. "This award nationally recognizes Subaru retailers who are making the world a better place while demonstrating an outstanding commitment to supporting passions and causes in local communities. These efforts are focused in important areas such as the environment, community, health, education, and pets." This past fall, Pacific House, a local deeply affordable housing agency that also owns and operates an 24/7/365 emergency shelter, was the recipient of 80 blankets from Subaru of Stamford to help make our residents lives better; which indeed these did! Since the onset of the Covid-19 pandemic, our residents have been temporarily relocated to two hotels where they can socially distance, quarantine if need be, and keep safe. While at the hotel, each resident works with a Pacific House Case Manager to connect to additional resources and find permanent housing. Upon entering their new apartment, each guest is given a Subaru blanket to help keep them warm in their own bed in their new apartment. Subaru has truly touched the lives of those typically shunned and long forgotten, and have given them a gift called kindness and renewed hope for a brighter future. Subaru is truly making a difference in the lives of those less fortunate and we are deeply indebted to them for their generosity and charity. ~Pacific House, Jennifer Broadbin, Business Development Manager
---
Lucky Dog Refuge's Love Promise Partnership - Kirstin M
We were so grateful when Jonathan DiMeglio, General Manager of Stamford Subaru, reached out about partnering with Subaru for the October Love Pets Initiative. As a new rescue (incorporated in March 2020) and sheltered (opened in June 2020), we had been actively trying to find ways to engage in the community; Jonathan's email came when we needed it the most. The exposure from the partnership helped us adopt more than 50 dogs in the month of October. October was a particularly busy month for us as we had multiple litters of puppies/young dogs come up from the South. While that sounds ideal for most rescues, it was actually a challenge. Many people looking for puppies prefer to adopt in the 8 to 10 week range; our puppies were all 12-14 weeks or up to 6 months - considered a "less desirable" age. This is because we consider it too risky to transport dogs before they have had at least 3 shots (12-14 weeks) and are more fully immunized. We would rather have to work harder to find homes for these dogs at a "less desirable" age than expose them to health hazards. Thanks to the community exposure from this partnership, we were able to adopt all of these puppies/young dogs in October and still have plenty of adopters left for our older dogs. It also allowed us to focus on other dogs with medical cases and bring in more who we otherwise might not have had kennel space for at that time. All the dogs we take in have a medical component. For example, one of the October litter had come down with parvo in Oklahoma and had to be treated with emergency life saving measures prior to travel. Most of the puppies (and many of the older dogs) we take are found as strays and emaciated and/or infected with mange, requiring a month plus of medical treatment before they are ready to travel. We also have a number of amputees (one of which was adopted in October), neurological cases (one of which was adopted in October) and Heartworm cases (many of which were adopted in October) which require months of medical care. The dogs that we adopted out in October, with the help of Subaru, all have tragic beginnings and now amazing futures. Many were found as strays following the Louisiana hurricanes, a number were from a shelter in Arkansas that lost funding and was going to put the dogs down, too many were found emaciated, just skin and bones. All had a hard journey but now have a beautiful future - thanks, in part, to Subaru Stamford and the Subaru Love Promise. Since our first adoption in June, we have adopted out 188 dogs to date - with over 200 dogs expected by the year's end; more than 50 of those dogs were in October and in partnership with Subaru Stamford. We are extremely grateful for this opportunity, the exposure, and the grant money (which will be earmarked for a current dog's orthopedic surgery bill). We hope and look forward to partnering again with Subaru Stamford on quarterly adoption events and saving even more dogs together.
---
Subaru Stamford Helps Sustain Boys & Girls Club - Sam G
The Yerwood Center in Stamford, CT has a longstanding history as a critical community center in Stamford's Westside. The Yerwood Center has had a number of operators over the years, and like many community centers, it struggled to stay financially viable. A few years ago, it closed completely until Boys & Girls Club of Stamford agreed to take on the operation. Today, the Yerwood Center is the primary facility for K-3 youth of Boys & Girls Club of Stamford, while youth in grades 4-12 remain at the Mary C. Rich Clubhouse on Stillwater Avenue. When George D'Angelo, Owner of Subaru Stamford, learned of this transition, he wanted to help. Growing up a Boys & Girls Club kid himself, he knew how important it was for youth development. Subaru Stamford partnered with the Club during the Share the Love event in 2019 and 2020, continuing Subaru Stamford's tradition of supporting hyper-local community causes. As a result, The Yerwood Center has been able to continue operating even during the COVID-19 pandemic as an essential resource for families.
---
Stamford Animal Control Center - Tilford C
Here at the Stamford Animal Control Center we would like to express our appreciation to Subaru Stamford for their support during the "Subaru Loves Pets" program this year. Between the staff at the dealership and the customers who bought cars during the program, they managed to fill up three huge boxes of pet toys and supplies. It's so nice to have extra supplies around the shelter for the animals. We've been able to hand out things like leashes and squeaky toys to new adopters, as well. All support is welcome while we try to find safe loving homes for our furry friends! Thanks, Subaru Stamford, for the support and the gesture.
---
Subaru Stamford cleaning up the Byram Beach - George D
On September 21st, Subaru Stamford took part in the Connecticut Coastal Cleanup choosing Byram Beach & Park as it is a well trafficked location with facilities for sports, public pool, beach and playground. The Subaru Stamford team was able to collect many garbage bags including plastics, cardboard and styrofoam. If any of this had gotten into the local waterways, it could have hurt and killed wildlife, damaging the ecosystem. Subaru Stamford has a great team of kind and environmentally friendly folk.
---
The Willow Project - Lynn G
We are proud to support local cancer patient, Lynn Willow Gulli with a monetary donation and help introduce her to the Make A Wish Foundation (our Share the love partner) to help ease some of the financial burden and pain associated with her cancer treatments. Dealer Principal, George D'Angelo was first introduced to Lynn's Mom through ABILIS a non-profit that helps those with special needs. Soon after, George's Wife Kerry (a homebound tutor) was asked to teach Lynn as she went through her treatments. Lynn continues the ups and downs that are associated with cancer treatment, but she is doing great and back to school. https://www.thewillowproject.org/
---